Okay, it's time for a not-so-shocking confession: I'm BIG on movies. What a surprise, right? Haha... Anyway, movies have always been a big part of my life. I guess you can say they inspire me, even to the point where I'm trying to write my own. Anyway, I thought I might share a list of my favorite films, and although this is not exclusively writing-related (although writing is clearly a fundamental part of any film, as the current writers' strike is making abundantly clear), I felt that you all might be somewhat interested to check out my picks.... and if not.... well, it's my blog, and I'll do what I damn well please...thankyouverymuch. ;)
I saw a bit over 50 movies in 2007, and while that's not nearly as much as most critics, I feel like I have a good grasp on the year in films. However, I have yet to see several of the year's most-touted movies, such as Michael Clayton, Gone Baby Gone, and The Bourne Ultimatum, so the list is by no means complete. All I'm saying is that these are my favorites of the ones I've seen.
Also, just to put my eclectic cinematic taste in perspective, here's a peek at my Top 6 of 2006 list (in order): 6) Blood Diamond, 5) Dreamgirls, 4) V for Vendetta, 3) Pan's Labyrinth, 2) Stranger than Fiction, 1) The Departed
So, without further delay, here's this year's model, my top 7 of 2007:
7. Hot Fuzz
From the director, writers, and stars of
Shaun of the Dead
,
Hot Fuzz
is a parody of American action films, but unlike recent spoofs like
Meet the Spartans
and
Scary Movie 4
, the film is more than a mishmash of skits. Rather, the story follows big city policeman Nick Angel (Simon Pegg) as he is located to a small village where nothing is as it seems.
Hot Fuzz
takes a while to build, but it's totally worth it, as every single moment is paid off later in the film. Hilarious!
6. Knocked Up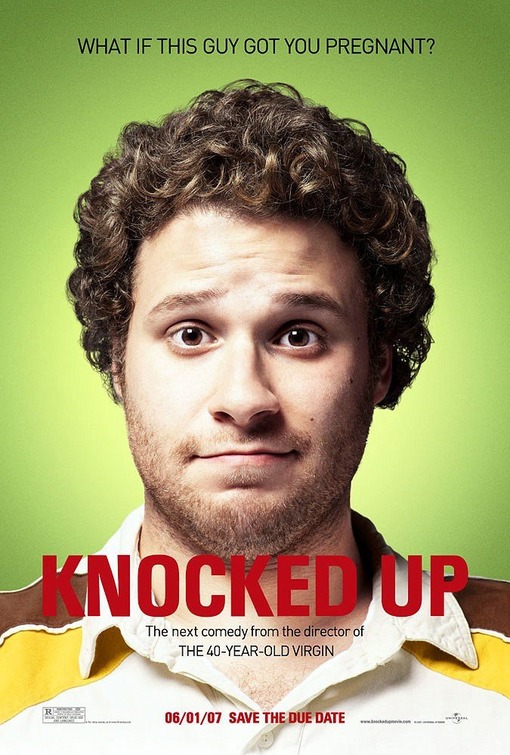 Like pretty much every guy my age, I absolutely LOVE
The 40-Year-Old Virgin
. So as soon as I found out that writer/director Judd Apatow was releasing
Knocked Up
, I couldn't wait to see it. A mismatch between career girl Alison (Katherine Heigl) and slacker Ben (Apatow regular Seth Rogen) is prime material for laughs, but as usual, Apatow manages to extract an equal amount of heart from his characters, making some sweet observations about love, marriage, and parenthood along the way. Although I still prefer Apatow's earlier work, his films tend to get better on repeat viewings. So, in time, I'll probably come to love
Knocked Up
even more.
5.
1408
Films based on Stephen King stories are a decidely mixed bag. For every classic, such as
Misery
and
It
, there's a clunker like
Dreamcatcher
.
1408
is definitely the former. The film - which feels very much in the vein of
The Shining
- features an outstanding performance by John Cusack as writer Mike Enslin. Working on his latest book about "haunted" hotels, he checks into the Dolphin Hotel's cursed 1408...and let's just say, he gets WAY more than he bargains for. Rather than copping out with cheap scares or outlandish gore, the film - and the room itself - delves into Enslin's tortured past, using his psychological demons against him. Brilliant - and highly underrated thriller that will definitely stick with you!
4. Atonement
An old-fashioned romantic tragedy,
Atonement
has more in common with films like
Casablanca
and
Titanic
than any recent releases. Robbie (James McAvoy) and Cecilia (Keira Knightley) fall in love despite differing backgrounds, but a terrible lie from the lips of Cecilia's own sister, Briony (Saoirse Ronan) threatens to tear them apart. While the story is not wholly original, it is told in such a masterful way - with fabulous performances all around and a truly mesmerizing Academy Award-winning musical score - that it's hard not to get swept up in the film. Besides, it features the most unexpected and haunting endings of any film in recent memory.
3. Ratatouille
Okay, a rat wants to be a chef. Whoa, hold up. A
rat
wants to be a chef?!?
Ratatouille
- from the writer/director of Pixar's equally brilliant
The Incredibles
- takes that somewhat ridiculous premise and totally runs with it. Paris sewer rat Remy teams with the bumbling Linguini to become the city's culinary genius, and this Oscar winner for Best Animated Feature romanticizes both the City of Lights and its cuisine. The rollicking score by Michael Giacchino and the movie's heartwarming message about being true to yourself help Pixar add another entry to their growing oeuvre of animated masterpieces.
2. Grindhouse
Some of you may question why I placed
Grindhouse
, directors Quentin Tarantino and Robert Rodriguez's ode to the exploitation double features of the 1970s, so high on this list. Well, aside from being a monster fan of both filmmakers (they're among my favorite directors), the theatrical experience of viewing this melange of Rodriguez's zombie flick
Planet Terror
and Tarantino's
Death Proof
, intercut with faux-trailers from Eli Roth (
Hostel
), Edgar Wright (#7,
Hot Fuzz
), and Rob Zombie (the
Halloween
remake) was an absolute blast, and really, that's all it's supposed to be. It's not high art, but it's definitely a damn good time...
1. Sweeney Todd: The Demon Barber of Fleet Street
Director Tim Burton and Johnny Depp team up for their sixth collaboration in this adaptation of the 1979 Stephen Sondheim musical. While the prospect of Burton and Depp re-teaming is sure to incite high expectations, the film is far better than I had anticipated. The music is memorable, the eerie, ghostly Oscar-winning art direction is outstanding, and the supporting cast (including Helena Bonham Carter, Alan Rickman, and Borat...er, Sacha Baron Cohen) is incredibly effective. A former barber who returns to London to seek revenge against the man who ruined his life, Sweeney Todd himself a complex and fascinating anti-hero, and the film's intricate blend of horror, tragedy, and dark comedy is like nothing I've ever seen.
Sweeney Todd
is both badass and heart-breaking, ingenious... and twisted. In other words, classic Tim Burton!
Honorable Mentions:
The Simpsons Movie
,
Zodiac
,
Enchanted
,
Pirates of the Caribbean: At World's End
,
Beowulf
,
Superbad
,
Once
So, what do you guys think? Are my choices way off-base? Did I miss one of your fave flicks of last year? Hit me up in the comments. Thanks!
-Rob